---
pyTrommler - A Python/GTK/SDL based drum machine
© 2006 Robert Muth (License)
Features
Distributed under the GPL v3.
Portable (Works under Linux, BSD, Windows).
Graphical user interface based on GTK.
Supporty complex rhythms (variable number of beats per pattern)
Virtual drum "@ACCENT" to emphasize certain beats.
16 bit 44100kHz mono or stereo drum samples (individual stereo panning and volume adjustment)
Realtime (stereo) audio output using SDL/pyGame library.
Alternatively, audio output to a wav file.
Screenshots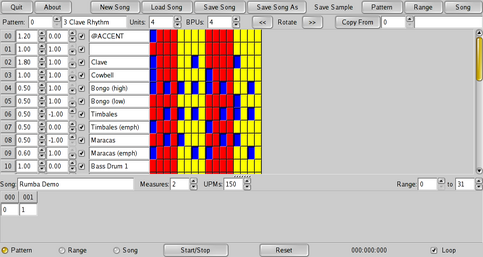 Links
Comments
Please sent comments and suggestions to Robert Muth (robert at muth dot org)
---